Browse Items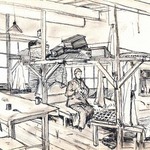 Sketch of a man sitting in barracks on bunk deep in contemplation, possibly praying. The barracks are notably well appointed with many personal items left out and unguarded from potential theft at the hands of fellow prisoners.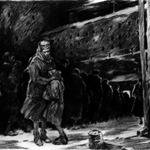 Sketch by Michail Distergeft. A woman comforting a child, as they stand in line waiting hoping for news of the fate of their family member who has been arrested. Such lines formed outside every prison during the years of mass terror, as it was the only hope for family members to learn of the fate of the arrested. The lines are memorialized in Anna Akhmatova's famous poem "Requiem." The sketch is from Distergeft's series "Those Years".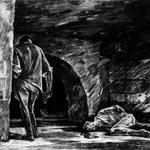 Sketch by Michail Distergeft. Families who sought information on the fate of family members who had been executed were often greeted with the lie that their loved one had been sentenced to a forced labor camp "without the right of correspondence." Consequently, the phrase become a synonym for execution in prisoner language. In the sketch, a guard with a gun stands looking down at a prisoner who has been shot in the head.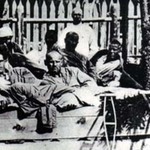 Black and white group photograph of hospital patients convalescing outdoors at the White Sea Canal camp. They lay in wooden cots and are surrounded by hospital staff. Crutches are visible in the foreground, and one patient's leg is padded with evergreen boughs.

In the color sketch from her self-illustrated memoirs, Evfrosiniia Kersnovskaia is examined by Doctor Mardna, while Nurse Margarita stands at the end of the bed. In the accompanying text, Kersnovskaia describes how well they took care of her, and how she trusted them completely.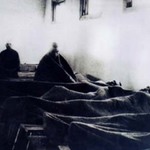 Prisoners either in camp hospital lie in their cots at the Vorkuta camp.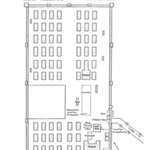 Plan of camp zone at Vorkuta showing layout of various buildings within the fenced zone and highlighting locations of some prisoners and shooting guards during a camp strike.