Browse Items

Part of a triptych, "Joy, Bliss, Frost" painted at Kolyma, ca. 1937-1946 by A. A. Merekov. From a series of drawings made in camp and later outlined with India ink.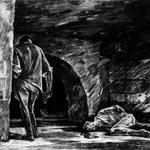 Sketch by Michail Distergeft. Families who sought information on the fate of family members who had been executed were often greeted with the lie that their loved one had been sentenced to a forced labor camp "without the right of correspondence." Consequently, the phrase become a synonym for execution in prisoner language. In the sketch, a guard with a gun stands looking down at a prisoner who has been shot in the head.

Black and white photograph of prisoners digging ditches and working in the outdoors.

Black and white photograph of prisoner's barracks. Propaganda slogans, including pictures of Ordzhonokidze, Stalin and Marx dominate the far wall. Beds line the right wall, and a stove can be seen on the left. A woman leans against a table. On one of the bunks is the prisoner's cold-weather clothes. The barracks are rather too clean for a typical Gulag scene, and the picture was likely staged itself for propaganda purposes.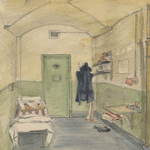 Rendering of Leningrad Internal Prison cell. Painted by Nikolai Evgenevich Lansere between 1931 and 1932. Shows the prisoner's bed, painting tools, and the washing facilities. Medium: watercolor and pencil on paper.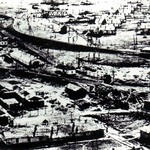 Overhead panoramic photograph of Vorkuta Camp. Shows extensive system of fences, and multiple barracks. Train tracks run directly through the center of image.