Browse Items

Color sketch from Evfrosiniia Kersnovskaia's self-illustrated memoirs depicting a discussion between a prisoner and a prison chief.

Mug shot of Evgeniia Mikhailovna Peunkova (surname Khalaimova at the time of the arrest).

Group of five black and white photographs of Kersnovskaia and her family, including two small photos of a young Kersnovskaia, two photos of her and mother taken in 1957, and a group of four women dated 1958.

Photograph of Evgeniia Michailovna Peunkova.
Newspaper article written by Pechuro about youth arrested and executed in 1951.

Sketch drawn by Vinivitin of a man playing a guitar.

Sketch depicts violin, music books, and a prisoner's face.

Sketches by Merekov depict survivors at Kolyma camps.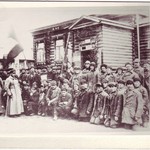 Black and white photograph of prisoners gathered together after hearing the head of Belomorkanal Camp speak. The prisoners were headed out to make a major breakthrough on the construction of the canal, and the camp chief had spoken to them to try to raise their morale.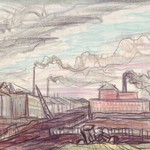 Andreeva color sketch of Vorkuta's New District.