Browse Items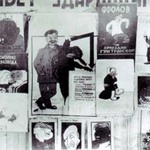 Photograph of the "wall newspaper wall" in the first section at the White Sea - Baltic Sea Canal Camp. It includes a number of propaganda elements, including a poster of the "Friends of Lice," and caricatures of idlers and "fake shockworkers." Lice were an omnipresent source of discomfort for many of the prisoners in the camps.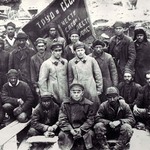 Black and white photograph of shockworkers and two officials from the Belomorkanal Camp visiting the forest in Valdai posing in front of a banner that reads: "Labor in the USSR is a Matter of Honor, Glory, Valor and Heroism."

Black and white photograph of the Belomorkanal Camp meeting of builders. Gulag camps frequently used such meetings trying to motivate their prisoner laborers to work harder.