Prisoners at L'viv 1941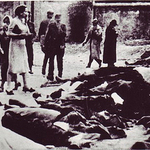 Description
Black and white photograph of prisoners shot at NKVD prison, Lonskii street, L'viv. Onlookers gasp looking at the heaped bodies, perhaps looking for missing relatives.
Date
1941-06-26 00:00:00 | no temporal coverage
Source
International Memorial Society, Moscow
Bibliographic Citation
"Prisoners shot on June 26, 1941 in NKVD prison at Lonskii street . L'vov."
Collection
Memorial Moscow