Browse Items

Black and white photograph of prisoner's barracks. Propaganda slogans, including pictures of Ordzhonokidze, Stalin and Marx dominate the far wall. Beds line the right wall, and a stove can be seen on the left. A woman leans against a table. On one of the bunks is the prisoner's cold-weather clothes. The barracks are rather too clean for a typical Gulag scene, and the picture was likely staged itself for propaganda purposes.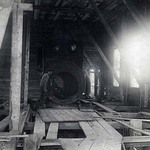 Photograph of prisoners at work on a large piece of machinery.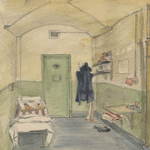 Rendering of Leningrad Internal Prison cell. Painted by Nikolai Evgenevich Lansere between 1931 and 1932. Shows the prisoner's bed, painting tools, and the washing facilities. Medium: watercolor and pencil on paper.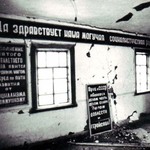 Black and white photograph of interior barrack ruins with visible propaganda slogans. Photograph taken at Salekhard-Igarka in 1990-1991. The slogans read: "Up with our powerful socialistic Motherland USSR." "The fulfillment of the fifth five year plan will be a big step forward on the path of development from socialism to communism." "Labor in the USSR is a matter of honor, glory, valor, and heroism."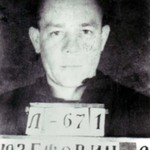 Black and white arrest photograph of S. Iuzefovich with his number and name displayed. He was a prisoner at Vorkuta, 1956-1957.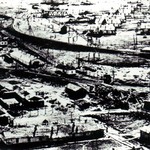 Overhead panoramic photograph of Vorkuta Camp. Shows extensive system of fences, and multiple barracks. Train tracks run directly through the center of image.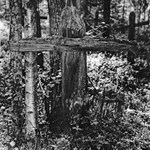 Photograph of wooden crosses marking a grave in forest at Obelusat Cemetery near Lake Stanovoi in the Solovki region.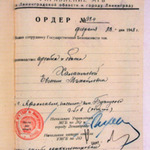 Arrest and search warrant for Evgeniia Mikhailovna Peunkova.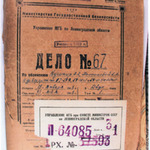 Front cover of the investigation file of Evgeniia Mikhailovna Peunkova and V. P. Kushnir on charges under Article 58 of the criminal code of the RSFSR
Text text text text text text text text text text text…